Holy Two Posts in One Day, Batman!
19:25:00
My blog is a bit of an 'all or nothing' venture of mine. It seems I do my crafting/baking/cooking in fits and starts.

Yesterday I made my first foray into the mysterious world of jam making. I've watched my mother make jam a few times and I've always wanted to make my own. When I was home in April, I managed to get my mother a Tefal Electric Jam Maker for half price, simply because the box was a bit battered, so she sent me her jam pan which was originally my grandmother's. That's perfect for me, the older a piece of kitchen equipment is, the better it is as far as I'm concerned. By the time the jam pan arrived we were right at the end of the fruit season so I didn't think I'd have time to make jam this year. Until I discovered Tesco were selling punnets of plums for 50p each! So I bought 4 and some sugar and a couple of cooking apples and decided to make jam!

I consulted a few different online recipes and decided to use equal quantities of sugar to plums as this seemed the be the general online consensus, any recipe that used more sugar than plums and people reported it being far too sweet. Earlier in the week I washed, halved an stoned all the plums and whacked them in the freezer as Monkey kept trying to convince me they would go mouldy if I didn't (unlikely as they were 'ripen at home' plums, but nevermind!).

Firstly, in went the plums into the pan with just under 500ml of water and two cooking apples, one I peeled and chopped, one I grated, I wasn't sure what to do so tried both. Here that is in the pan: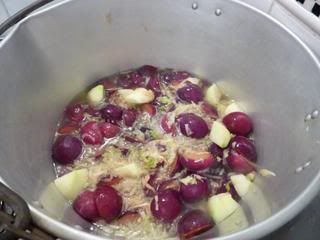 I cooked it down for about 30 mins until everything was soft and squidgy: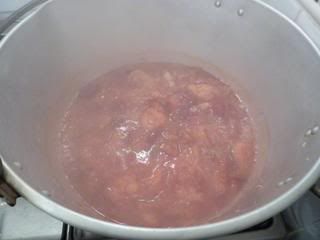 Then I put in the sugar. There was a LOT of sugar. This is the jam not long after the sugar was added: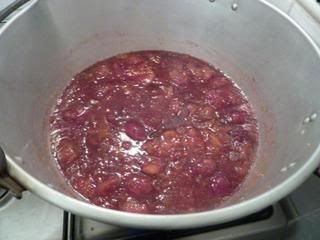 I had to bring it up to the boil then keep testing it to see if it was set or not: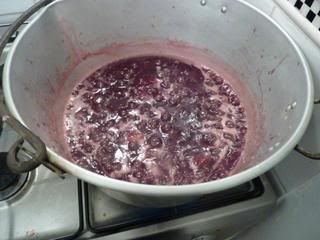 And this was the jam right before I bottled it up: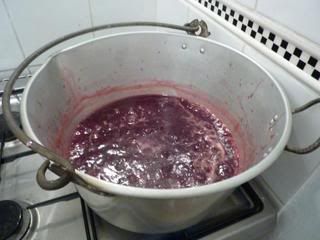 And this is it in massive 500ml kilner jars: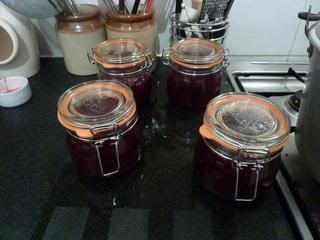 I think it might be too sweet. I was so scared that it wouldn't set that I think I overdid it and now its a very firm set jam, almost at that chewy stage.


But there was really only one way to know for sure how it tasted... try it out with something suitably delicious! So I made scones! I've tried to make scones a couple of times in my life and they've not worked out at all. Having a light hand and not touching things too much is something I am hopeless at. But I was browsing online the other weekend and found this recipe which I knew deserved a try. And you know what, it worked remarkably well!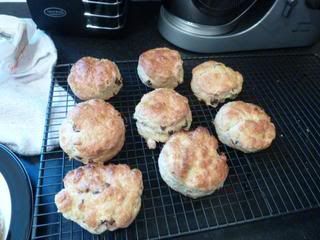 We made 4 more than that but by the time I remembered I should take a photo, I had set up Monkey and I's afternoon tea up!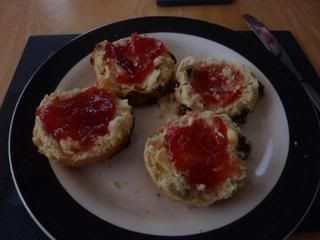 The scones and the jam were completely delicious! The recipe was so quick and easy (and messy, but the scones are in the oven just long enough to tidy up!), I know I'll be making them again and again and again.

As a final parting shot, here is my new Kenwood mixing up its first ever cupcake batter. The shape of things to come I hope!