Long time, no blog. We're very much settled into our amazing new house. My 'brother in law' has been round a couple of times putting up some curtain tracks. Two of the windows had nothing with which to hang curtains on, which we have now remedied!

I'm a bit of a curtain fanatic. Shop bought unlined eyelet nasties just will not do for me. I've always believed that curtains are really important in a house, both for artistic and insulating purposes. Having a good pair of lined curtains makes a massive difference!

When I first moved to Watford the curtains in my bedroom were a bit hopeless. They weren't lined, they weren't wide enough to close properly and they were a bit too long, so all the heat from the radiator below the window got sucked up into them and not into the room. So I made a pair over a couple of weekends. It was a nightmare, as I had no space to cut my fabric, no space to leave the ironing board up in between uses. And they're by no means perfect, I didnt quite get the panels right when I sewed the lengths of fabric together and the linings are a bit wonky. However, they worked perfectly and for a first attempt, I was very proud of them! I also made some voiles as the voiles I had were lacy and floraly. Urgh. When we moved into the flat I had no need for the curtains but I kept them regardless, and when we moved into this house, the curtains in the bedroom were so incredibly thin (not great when there is a streetlight directly outside the window) and too long and just...blah.And again, the lacy floral voiles were in abundance. So two days after we went in, my love curtains and voiles got a new lease of life in my bedroom here. They look great!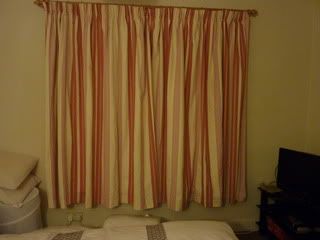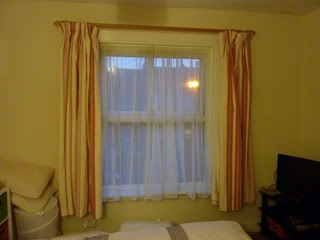 You sort of have to take my word for it, as the I took these pictures this evening! But the curtains and the voiles work beautifully.

Over this bank holiday I set about making curtains for some of the other rooms. I started with the dining room. Due to where the window is positioned, I decided to make one long curtain rather than a pair. I will be doing the same for the second bedroom as well as that window is directly above the dining room. I chose Cecilia fabric in grey from Ikea, bought a whopping 25metres of thermal lining (for this and the other curtains!) and set to work! This evening, just before dinner, the curtain was hung and done!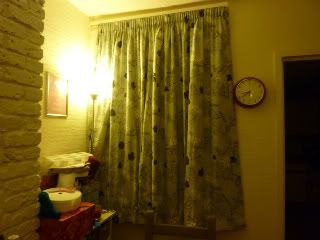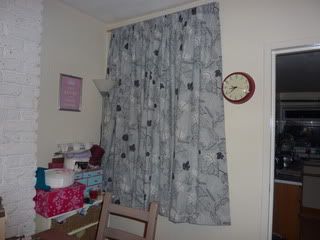 Lights on and lights off. Again, the evening was the wrong time to photograph my curtains. Oh and please excuse all the mess next to the curtains. I keep all my craft supplies on a storage unit next to that window, and its in desperate need of a sort out!

Curtain making is not difficult at all, and there are tonnes of online guides. All you need is plenty of space and some patience. Oh, and thick skin. Yet again I am COVERED in pin holes. I look forward to making the second bedroom's curtain next weekend. Unfrotunately the curtains I was most excited about, the front room ones, are on hold as we are having some, errr, issues getting a new curtain track up (the issue being that the wall about the window is totally hollow. HOW SCARY?!

In other crafty news, I've been doing a lot recently. It was my birthday in early April and Monkey bought me a breadmaker! I am completely in love with it. I'd never have bought one for myself but thats the best type of present I think! I made a loaf today, the rapid bake setting produces a great loaf in 1hr55, for absolutely no effort on my part! Unfortunately I completely forgot to put salt in today's loaf. What an idiot! It makes a huge difference. I've been baking loads as well. But I will save that for another post. I must get back into blogging. I've built up quite a large list of people I follow on here, but am shameful in how infrequently I update mine!