As I mentioned in my last post, I got a breadmaker from Monkey for my birthday. I've had conversations with some of the other women at work about how receiving items like that for your birthday or for Christmas would, to them, be the worst thing ever. To me, its BRILLIANT. I love kitchenware and kitchen gadgets. If the house was burning down I'd blatantly bail out my Kenwood mixer, my laptop, my sewing machine and now my breadmaker before I'd give much thought to anything else. A breadmaker is one of those things I always thought would be good to own, but I never really looked into it much and it seemed like the were quite expensive. Monkey was struggling to come up with a birthday present for me then chanced upon the breadmaker and the rest, as they say, was history! He bought it a little while before my birthday and then out of the blue, The Gadget Show on C5 reviewed breadmakers and mine was on it! Mine won out of the three, which he was REALLY relieved about!

I have this one, and I've used it most weeks since my birthday. To be honest, I haven't been that adventurous yet, I tried the 4hour white loaf cycle and then I tried the 1hr55min rapid bake white loaf cycle and I've kind of stuck with that the last three weeks! The 4hr cycle does produce a better loaf but there's nothing wrong with the rapid bake setting. The machine came with lots of recipes, some of them sound amazing so I'm looking forward to making a few different things whenever we get bored of fresh white bread (do you ever get bored of fresh white bread?!)

Here is my breadmaker in the flesh: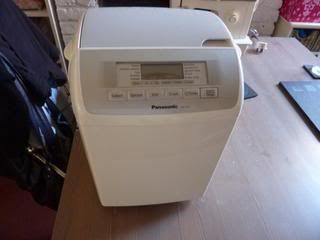 It couldn't be simpler, really. You pull the bread pan out of the machine and put the kneading blade in. You then chuck in the ingredients, putting the yeast on the very bottom and the water in last, like so (it doesn't look pretty!):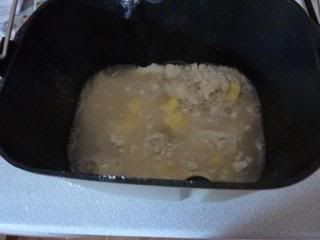 You then select the settings you want, which probably takes the longest time of every step in the process!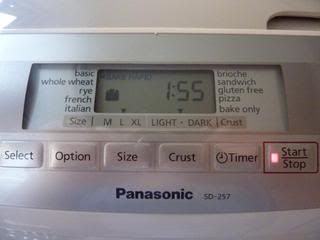 You then wait till it beeps and whip out a beautiful load of bread!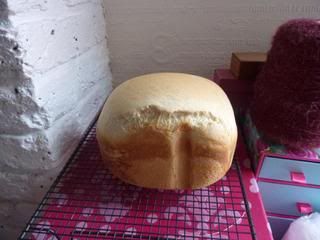 (today I was making some more curtains, so my bread and the cooling rack were relegated off the dining room table where my sewing stuff was and were instead put onto my craft table).

The only negative bit is you don't get that 'fresh bread baking' smell while its cooking. You do get it when it's out and cooling though, delicious. Im promising myself I'll splash out soon and try different loaves! You can make a ciabatta loaf as I have been asked to make my lasagne next Sunday, I should really bake a fresh ciabatta to go with it.

I've never tried any other bread maker before, but I can still recommend this one to anyone considering getting one!

(Please note, I've not been paid by Panasonic to review their machine and I'm not affiliated to them in any way, besides being a very satisfied customer!)