Baking: Speculoos Cheesecake
13:30:00
In September my partner and I went to Belgium for a few days. We stayed in Brussels and took a day trip to Bruges. One of the many things that's famous over there is speculoos biscuits. Crunchy spiced biscuits that are completely delicious and moreish. Over in the UK you can buy Lotus biscuits from supermarkets, which are a massed produced version of the same yummy biscuit. Ever since we got back we've been buying a packet here and there to enjoy with coffee.

Lotus have also produced speculoos spread. All the yummyness of the biscuit in spread form. I'm reliably informed its like peanut butter (I don't eat peanut butter so I wouldn't know). A quick scout on google seems to suggest its sold in the US as biscoff spread. I brought back two jars from Brussels (along with a jar of caramel sauce and chocolate spread, om nom!) and spent a long time scouring the internet for recipes and ideas. The first thing I decided to try was making a cheesecake. I love speculoos biscuits, I love cheesecake. This idea could never fail, really! I've previously experimented with cheesecake recipes as can be seen in my blog post here, although I decided to go for a baked cheesecake this time rather than a no-cook one.


I used the chocolate cheesecake recipe from the Hummingbird Bakery cookbook as my guide. I wanted my cheesecake to be all about that speculoos taste so I used the biscuits to make the base as well, rather than digestive biscuits which are the norm. This is really easy, doesn't take masses of effort and makes absolutely loads so its perfect for snack attacks all the way through the week or if you're having people over.


Speculoos Cheesecake



For the cheesecake topping:
900g cream cheese
200g speculoos spread
190g caster sugar
1 tsp vanilla extract (I used the seeds from half a vanilla pod instead as I have some to use up)
4 eggs
For the biscuit base:
200g lotus biscuits
100-150g butter (I used 150 but I think that might have been too much. I will experiment next time with less)
You will also need a 23cm springform tin greased and the base lined in greaseproof paper.
Turn your oven on to 150 degrees and boil a kettle full of water for the waterbath later.
Make the base by blitzing your biscuits, I used my food processor attachment but you can put them in a freezer bag and bash them to smithereens with a rolling pin. Melt the butter on the hob and mix with the biscuit crumbs. I pour the melted butter into the processor whilst its on to get it to mix up. Put this mixture into the bottom of your springform tin and make sure it covers the whole base and is as even as possible. Pop this into the fridge to cool and set while you make the topping.
Place the cream cheese, speculoos spread, vanilla and sugar into a mixer with a paddle attachment (you can also use a hand whisk) and beat slowly until the mixture is smooth and combined. You need to be careful not to overbeat cream cheese as it will split, so being gentle is the best bet.
Add the eggs one at a time while still mixing. You may want to scrape any unmixed bits along the sides back into the bowl to make sure everything is evenly mixed and really smooth.
Spoon the cream cheese mixture into the springform tin and try and smooth it out evenly as much as you can. Get two piece of tin foil and lay them in a cross shape. Place your sprinform down in the middle of the cross and fold and scrunch the rest of the foil around the tin creating a sort of tin foil halo around the tin. Place all of this into a large roasting tin.
Pour the hot water from the kettle in to the roasting tin until the water comes about 2/3rds of the way up your springform tin. It'll look something like this:
Carefully pop this in the oven for 40-45 minutes but check on it regularly after 40 minutes as you dont want to overcook the cheesecake and make it dry and crumbly. When its finished it will still wobble a little in the centre. Once its out of the oven, remove it from the water bath, leave to cool, then put into the fridge overnight.
Now, I have a confession to make. Being that I'm rather absent minded, I only put 3 eggs into my cheesecake, thinking I had put four. Whoops! As a result, mine took a little longer to cook and set and is quite 'mousse' like in the middle. However, it wasn't a huge disaster and it still looks and tastes delicious. But I will remember to use 4 eggs next time!
Here's my finished cheesecake. I wasn't brilliant at smoothing it out but it doesn't really matter. Having one less egg did mean it dried out ever so slightly at the very edges (because of cooking it a little longer) but honestly, its only a tiny thing.
I find cutting the first slice of cheesecake to be really hard. Is that just me? But here it is anyway! As you can see its still soft and almost moussey in the center but its really tasty and exceptionally moreish!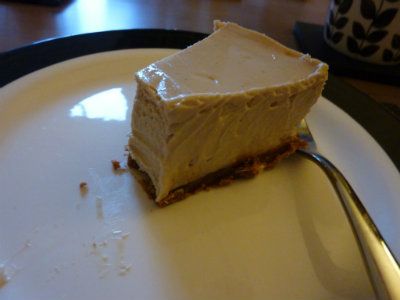 I'll definitely make this cheesecake again, especially as I've heard that you can buy speculoos spread in Waitrose in the UK! I dont have one that close buy but I know they're looking to build one only 10-15 minutes walk away so that's extra exciting. If you try this recipe, please let me know how it works out for you.
Do you have any suggestions for how I can use up the rest of my speculoos spread? I'd love to hear them in the comments!