Craft: Crafty Creatives Box 7
20:30:00
Well hello to you. For the first time in ages, I'm here with something crafty rather than beauty related.

For Christmas my lovely Mum gave me a 3 month subscription to Crafty Creatives. Crafty Creatives operate a monthly box service not dissimilar to the beauty box subscriptions. Except, of course, that rather than beauty samples they send you some lovely crafty bits to get your creative juices flowing. My first box arrived yesterday!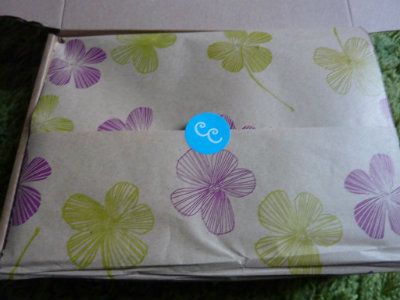 The box is about the same size as a beauty box. Its more of the 'throwaway' variety though (by which I mean throw away into your recycling box/bin of course!), although I wouldn't say this was a negative. Style over substance is rarely a good thing. Also, how awesome is the paper inside the box? I'm keeping that for crafting as well. Like a special extra treat!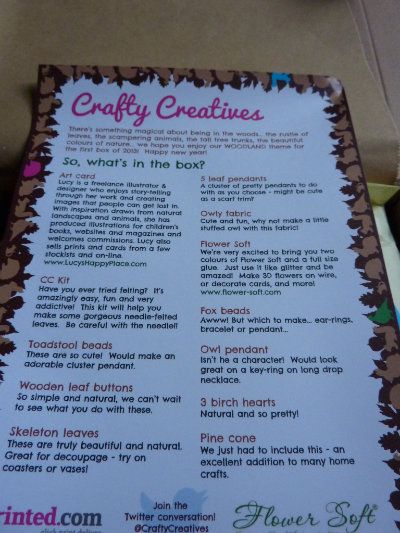 With a beauty box, you get 5 samples on average. Maybe 6 if you're really lucky. This box has 11 items, which is spectacular value for money. Above is the list for this month's box, which is Woodland themed.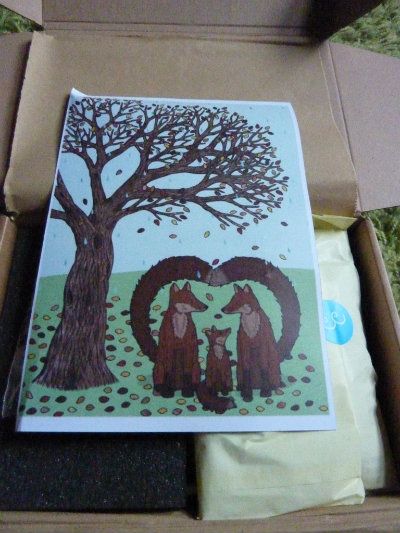 Check out the beautiful art card the box contents are printed on. I love it!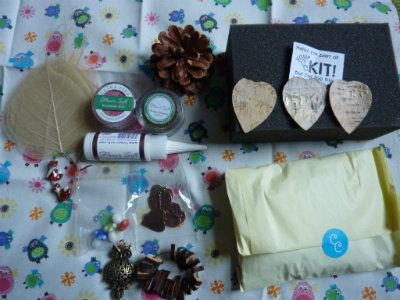 And here's all the contents. So many! The box contains:
Toadstool beads
Wooden leaf buttons - and lots of them!
Skeleton leaves
Leaf pendants
Fat quarter of owl fabric
Flower soft in two colours and glue to use it with
Fox beads
Owl pendant
Birch hearts
Pine cone
And finally, this months CC Kit. Each month the box contains a kit full of everything you need to help you learn a new craft skill. This month its needle-felting. Which I'm delighted about! I can't wait to try this. Here's the kit: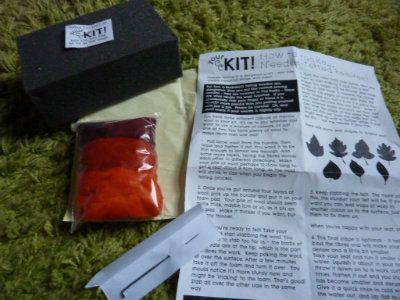 I'm blown away by all of this and my brain is already in overdrive wondering how I can make the most of all these things. And I really can't wait to get stuck into the needle-felting kit.
My Mum, very wisely, gave me a 3 month subscription because she wanted me to see if I liked it enough to either ask for a longer subscription for my birthday or to sign up myself to a monthly rolling subscription. If this first box is anything to go by, I'll definitely be signing up for more when this subscription is over!
Hopefully soon I can do a follow up post showing some of the things I've made with this little lot.
Be sure to check out their
website
, or join them on
Facebook
or
Twitter
.