I've been missing in action...
16:36:00
Its a good job nobody reads this blog as I've somewhat neglected it!Since my last post a LOT has happened. My Mum came down to Watford to visit me and we had a glorious time, the highlight of which was Mum, Monkey and I enjoying afternoon tea at The Ritz! I ate SO MUCH FOOD it was all completely amazing. Totally worth the price tag. They keep bringing you more food if you let them (or if you're prepared to look like a real guzzler like me!). Also when my Mum was here we went to Canary Wharf and managed to score free goodies bags. I love a goodie bag!: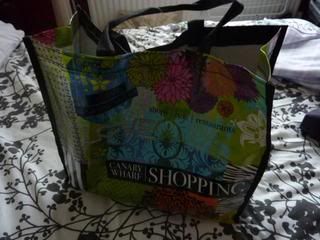 and the contents: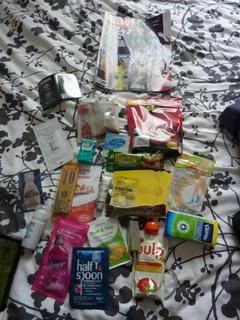 After my Mum left I started my new job and was only there about a week and a half before I had minor surgery which basically was successful. The day after my surgery my boyfriend and I went to look at a flat, the first we've ever viewed. We didn't like it, too overpriced and really small, you were paying for the postcode and nothing else. Then the same weekend we looked at 3 flats and ended up taking the last flat we saw! Finally, a flat of my own! It all happened so much quicker than we were expecting but it was the best amount of space we had seen and I still look at flats from time to time and I've basically never seen a better flat than ours. Hurrah! The move was extremely stressful as my body was not happy with me for having surgery. But we moved on August 1st and are enjoying being in our own place. Here are some pictures of it the day we got the keys, before we moved our stuff in (it looks very different now! A lot more furniture!):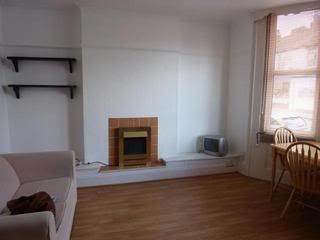 The front room, which has a dining table and chairs in the bay window. Its a really brilliant sized room. The flat was furnished to a very basic level but we asked the landlord to remove most of the bits and bobs and moved our own stuff in. Looking at these pictures reminds me of how big the flat was till I went mad in Ikea!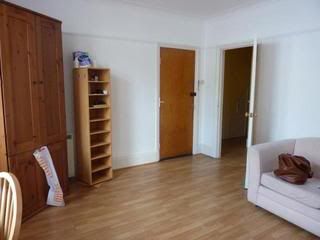 The front room from the opposite corner. The closed door is our front door, it leads to a communal hallway so I don't mind the front door opening straight into our front room as at least that door doesn't open directly onto the street! We got rid of that tall shelf thing but kept the massive cupboard as its secretly a computer cupboard!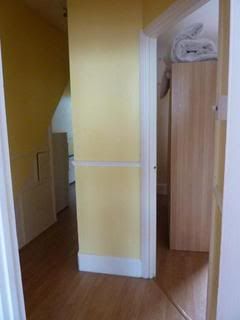 Into the hallway, on the right is our bedroom and on the left the hallway leads to the bathroom and kitchen.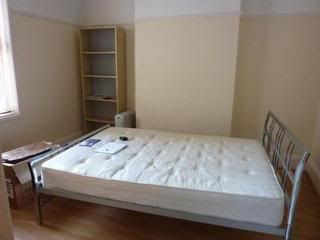 The bedroom. We asked the landlord to store the bed and brought our own. We moved the entire room around and it looks really different now. What surprised us was when we viewed it, we thought the bedroom was small and the front room was huge, when we moved in we thought the front room wasn't as big as we first thought but the bedroom was massive. A hilarious tale!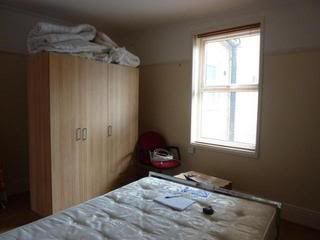 Another view of the bedroom. The wardrobe is pulled quite far out as the landlord had everywhere cleaned and painted between the old tenants and us. We kept the wardrobe but moved it. Our bed goes against that wall now.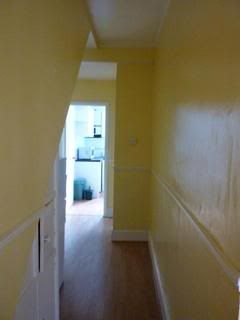 The rest of the hallway. We whacked a big Ikea Billy bookcase in there and also my Urban Outfitter mirrored pictures from a previous post!That 'light at the end of the tunnel' is our kitchen.


Bathroom. Quite possibly the worst picture I have ever taken! But hey, its a bathroom.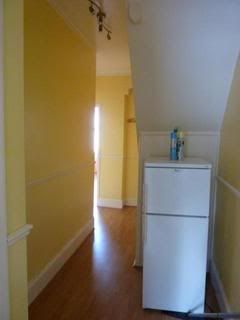 The hallway looking back up to the front room. There is no room for a fridge freezer in the kitchen so its tucked under the stairs for the flat above us in the hallway. We don't mind that at all, our kitchen is still bigger and better than any of the other flats we looked at, some of them were miserably small!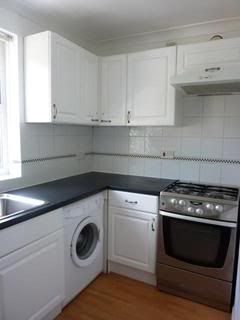 The kitchen! Has enough space to fit all my crazy gadgets, etc in. Yeah its not huge but as I said, significantly better than any other kitchen we saw!And not open plan with the front room so we can stick the washing machine on whenever we want and it doesn't affect our tv viewing!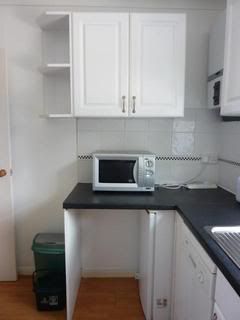 The rest of the kitchen. We have a dishwasher, AMAZING! Also we have a fridge that we don't use there as well, its literally just for decoration! There wasn't much point asking the landlord to move it, we couldn't really do anything with that space anyway.

So, that's our flat. I should take pictures of it now but its perpetually a mess! We only just finished buying all the furniture and things we wanted and I've been crazy busy at work. I haven't even done any crafting lately! We really like our flat. It only has electric storage heating so I'm currently sat here feeling a bit cold, but nothing can be perfect. I fear we may need to move a lot quicker than we'd hoped because the flat is very, VERY close to my work and given what I do these days, thats a bit of a risk to me. If we could move this whole flat somewhere else though, I'd do it in a heartbeat (installing gas central heating on the way of course!). We had a disaster the other week though, we both got home from work to find our flat COVERED in dust. Mainly the kitchen and hallway but it really did get everywhere. The are ripping the basement flat below us apart and all the dust somehow got into our flat: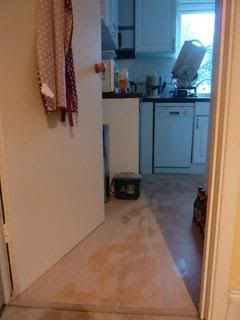 It got all over the surfaces and floor:


And it even got IN the cupboards, which was the most devastating part of it: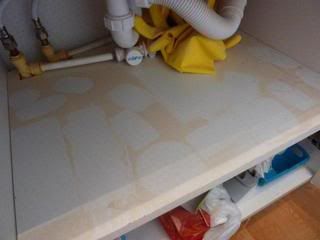 But our landlord is a nice person and offered us £100 for our troubles.

Finally, a picture from ages ago of me trying to make my lunch look like it walked straight out of a recipebook photoshoot. This is one of my favourite lunches, French Onion Soup, served with creme fraiche and chives and slices of cheese topped baguette. YUM!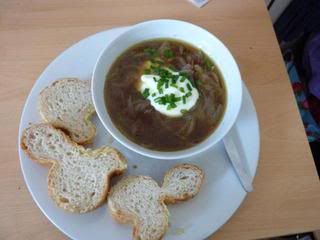 And thats all for me for now!