Lifestyle: After a super long time, here's Instagram Post #3 :)
10:30:00
How-do? Its been basically forever in the blogging world since my last update. Quite a lot has happened to me and I lost my blogging mojo in a big way. Truth be told I lost my mojo full stop. This isn't the place where I'd ever really want to talk that personally but rest assured, its been a rough few months but I'm hoping that all the unpleasantness is over. With that in mind, I feel ready to come back to being a mediocre blogger! I've been really impressed with how many page views I've had despite no updates since the end of August and no attempts to advertise my blog anyway. So thanks, friendly readers. I have accumulated a few things to do as giveaways but I think I will wait till after Christmas as its always a frantic time, no?

I thought I'd return to blogging with some less than fascinating photos of the last few months of my life :) I'm on Instagram here so feel free to follow me if you like.




Maybelline 24hr Eye Tattoos, naughty Primark haul, taking this picture with the tagline 'braaaaaaaains' turned out to be really embarrassing as I was in a tube station during the Olympics surrounded by policemen!, some chocolates from my wonderful boyfriend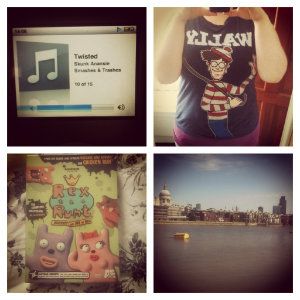 Awesome tunes on my iPod, my most favourite t-shirt in the world, the entire Rex the Runt collection is finally mine and super hot and sunny London on one of those super hot and sunny days way back when.
First ever trip to Wahaca, Emirates Air Line on one of those 30 degree heat days, up in a cable car, 'touchdown' on the other side of the Thames.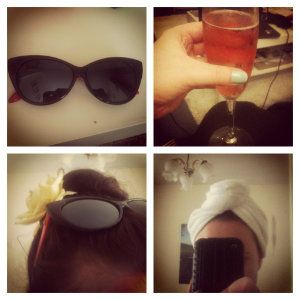 Awesome cat eye shaped sunnies, bit of pink fizz to round off a great day, top knot sunnies and a flower in my hair, giving my hair some much needed TLC in a mask and turbie twist.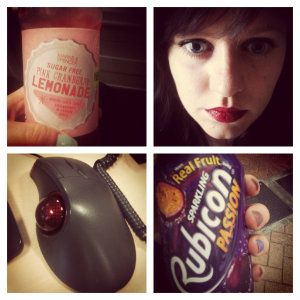 Awesome pink lemonade (ever since Tesco stopped selling their fizzy version I've relied upon this!), crazy face and red lips, insane mouse at work, Rubicon passion fruit is my favourite fizzy pop.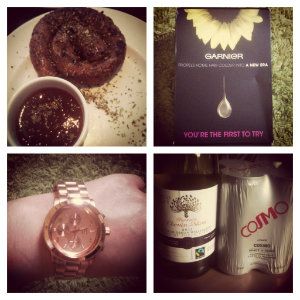 Dubious looking sausage at The Real Greek, was sent a sample of Garnier Olia, River Island watch that was miles too big and had to go back, making sure I had the perfect weekend!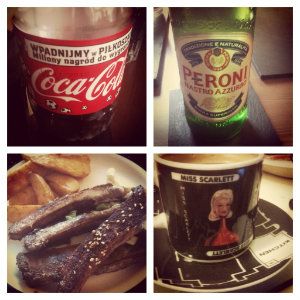 Polish coke, a nice cold peroni, delicious ribs for dinner, our fab Cluedo espresso cups.
My storage unit made of GlossyBoxes, Essie nail polish to match my top, finding perogies in Tesco was the highlight of that particular week, eating an entire packet of said perogies and feeling absolutely no shame about it in the slightest.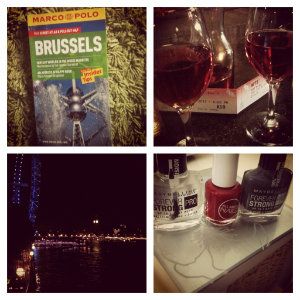 My Brussels guidebook arrived in the post, vino and Hitchcock with my best mate, London at night, new nail polishes.
Cosy socks spell the end of summer, a DVD from my new best mate Jillian Michaels, great new watch which suits me far better than the River Island one I tried and returned, BRB going to Brussels :)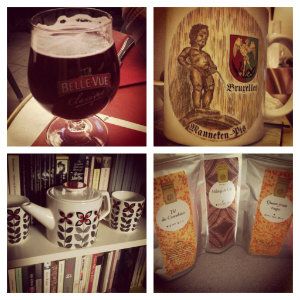 Kriek (sour cherry beer), we love tacky souvenirs, new teapot and matching mugs, the teas we bought in Brussels.
French pharmacie products brought back from Brussels, speculoos biscuit and the Brussels tea, Kusama/Vuitton windows at Selfridges, the wonderful annual Art by Offender exhibition.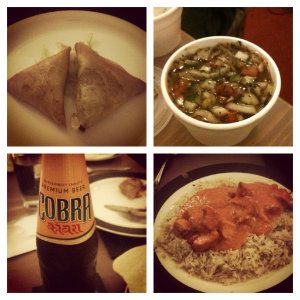 The takeaway night my boyfriend and I were so looking forward to we texted each other about it all week! Samosas to start, their onion salad is my favourite so they filled it right up to the top for me! Washed down with a cobra, delicious curry goodness.
The weekend of homemade stuff: homemade pizzas made from scratch are delicious and super easy, my first ever attempt at bagels, they look a bit strange but they tasted yummy, cupcake eating challenge with my boyfriend, defeated by the challenge.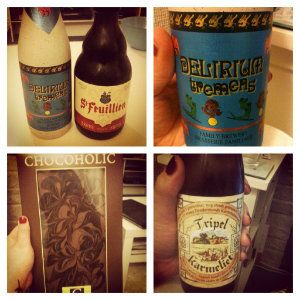 Our yummy belgian beer we brought back, this one was really interesting and extremely strong! Just a tiny bit of belgian chocolate, more belgian beer (also delicious, also strong!)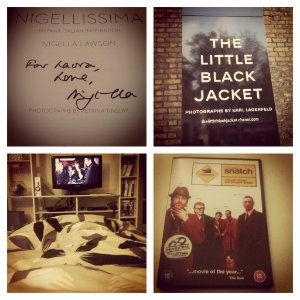 Nigella's new book, signed just for me, best day of my life! Chanel exhibition at the Saatchi gallery, tucked up in the sofa bed watching Lock Stock, carrying on the Guy Ritchie theme by watching Snatch.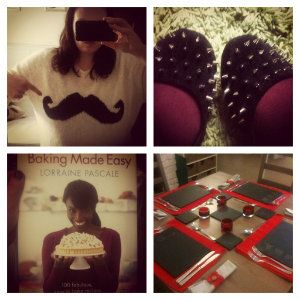 Movember jumper and a gangster pose, my 'don't mess with me' shoes, fantastic Secret Santa present, setting the table to have folk round for dinner.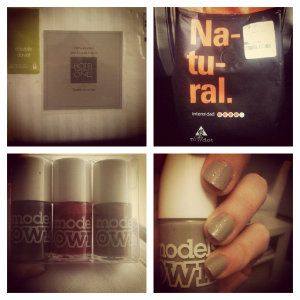 TK Maxx haul: white striped bedlinen is finally mine, enormous bag of ground coffee, Model's Own trio (mushroom, funky fuscia, concrete mixer), trying out concrete mixer with Nails Inc Glamour Glitter on top.
So, that's the last few months condensed into some Instagram photos. Hopefully this is the start of me blogging more frequently. Are there any posts you'd like to see from me in the future?