Beauty: Empties Post#2 August
13:30:00
A whole month has gone by! I can't quite believe it. Its been a little cold the last couple of days which says to me that autumn is coming. I do love autumn (if we could just have one with very little rain, I'd be extremely happy!).

I've been trying to zip through all my half-used beauty products still and I think I'm making reasonable progress. My progress would be a lot better if I stopped buying more things, of course, but we won't worry ourselves about that.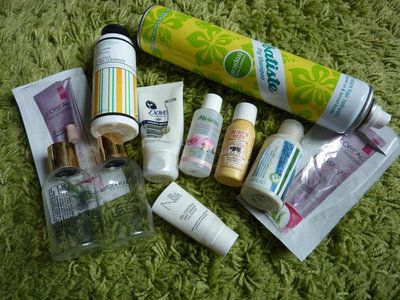 Here's my empties this month. I still think I Must Try Harder.
Bayliss & Harding Sweet Mandarin and Grapefruit balancing body wash and luxury shower cream - these were part of a gift set I received ages ago. I really like this range as I think the scent is a good dupe for Molton Brown's similarly coloured offering. There was very little difference to the two bottles, one was a clear gel and one was a creme, but both smelled lovely, lathered well and left my skin nice and soft. Repurchase? Yes, definitely. But not at the moment because I've got loads to use up still.
Korres Thyme & Sage facial gel cleanser - This is specifically for combination/oily skin and I picked it up a few months ago in TK Maxx, I started it, then switched to Liz Earle and all sorts of others and then I promised myself I'd use it all up. What I did like about it was it was excellent at removing makeup. Whilst I'm trying not to wear so much eyeliner, I still wear lashings of mascara every day which takes effort to remove. This made it effortless. Unfortunately, it tended to dry my face out, meaning that my skin would overproduce oil to compensate, leaving me back where I started. A nice, fresh smelling product with good lather, but not for me. Repurchase? No, it isn't worth the money for me.
Dove Intense Repair Express Treatment Conditioner - when I first got this I didn't like it, and so it languished in the back of my storage unit in the bathroom for a while. But giving it another go, I really liked it as an every now and then quick hair mask. It left my hair soft and shiny. Repurchase? Yes.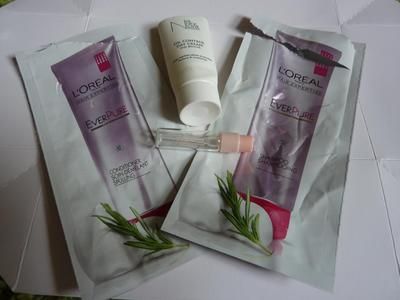 L'oreal Ever Pure Shampoo and Conditioner - you'll remember this from last month. I had another sample which I decided to try out again. Second time around, it was better. I think you run the risk of putting too much product in your hair afterwards (I use Macadamia Oil and I barely put any in the roots but I do smooth a little over). This time around my hair did look really shiny and well cared for. But I think it would make my hair go greasy pretty fast. Repurchase? It would all depend upon the price. Probably not.
Agent Provocateur EDP - this came from a set of three from GlossyBox. I had sampled L'Agent before and not really liked it (although now I'm thinking the sample was spoiled as there was a sample of L'Agent in with this which I did like. Confusing), but this one is really nice. I like perfume samples with sprays on the top, spraying perfume on me seems to make it last much better than just dabbing it on. Am I crazy? Repurchase? Yes. I ordered some from Fragrance Direct for a bargain price.
Dr Nick Lowe Oil Control Day Cream - this is my holy grail product. I've never before found a day cream for my skin type that can moisturise my skin at the same time as mattifying it. And I've tried a LOT. I don't like my moisturiser to have a gel formula, I like cream and this is lovely and creamy. I had a panic when they had a stock problem with the cream and there was none online and none in Boots and I was dangerously close to the end of the sample. I tried some other things but nothing compared at all. This guy is a genius, as far as I'm concerned. Repurchase? Yes. I picked up a 50ml pot in Boots as soon as it came back in stock. I hope the formula never ever changes.
Body Shop Rainforest Balance conditioner - the little travel sized bottles of this range were all on sale at Christmas time so I picked up a few. The balance conditioner is for those with hair that's prone to greasiness, like me. This has replaced the Nettle conditioner that I loved. I like that there's very few nasties in this product but I do find the conditioner very thick, not creamy as such, just thick. This makes it devilishly hard to get out of the bottle. It is good on the roots, but does dry my ends a bit, so I am sure to use Macadamia Oil on the ends afterwards. Repurchase? Forgetting I even had this, I bought the full size of the shampoo and conditioner a while ago, so I think that makes it a yes. I'll see again when the full size is finished.
Burt's Bees Milk and Honey moisturiser - I've had two samples of this, one in this little bottle and one in a squeezy tube. This had the milkier consistency and I found it make my hands feel a bit powdery but it made my skin feel amazing otherwise. Repurchase? Maybe, when my squeezy tube has run out.
Melvita Eau Fraiche Micellaire - my first micellar water, this one has rose in it, which isn't a scent I'm wild about, however, I loved this product. It was amazing at grabbing those last bits of makeup on the face and seems to pull out a lot of extra grime from my face, whilst being really gentle. It's amazing as an eyemakeup remover too. Loved this! Repurchase? As it stands, I have one more sample this size, and I am keen to try other micellar waters before making a decision on which one works best for my skin. So at the moment, its a maybe.
Natiste Dry Shampoo in Tropical - this is a monsterous 400ml can and I'm a bit embarrassed at how fast I've used it all up! I love dry shampoo, I prefer not to wash my hair every day and prior to starting exercise in the middle of our heatwave, I could go three days without washing it which was keeping it in much better condition. Batiste is cheap and cheerful and I love all the different scents. Tropical reminds me of that beach holiday I'm dying to go on. Repurchase? Yes.
What products have you used up this month? Are any of these your favourite beauty items? Let me know in the comments :)