Beauty: Beauty Week: Day 5 - I love The Body Shop
17:30:00
The Body Shop was one of the first places I started buying toiletries for myself in. Usually something fruity like a strawberry shower gel. Over recent years, I think The Body Shop has really upped its game from the sort of products it used to sell (although its kept all the old favourites!). I tend to shop there during sales or when there are promotions on as it can be a little pricey, but then I'm a die-hard bargain hunter! I have a Love Your Body card which gives me 10% off purchases as well, which is usually always worth it (sometimes when you shop during a promotion, factoring in the cost of the card and then the discount that gives you means you only pay about 60p more than you would have without buying the card, so that's one to look out for and the shop assistants will always let you know about it!).

I recently got a promotional e-mail from The Body Shop giving me a 40% off voucher code for the website. This was over and above any other promotions they had. So I bought a few extras of things I really like, and tried a couple of new things!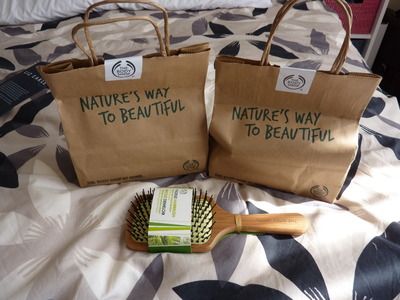 This is what was in my box. I absolutely love that they bagged up my products! Not sure why the brush wasn't allowed in but there's probably a reason!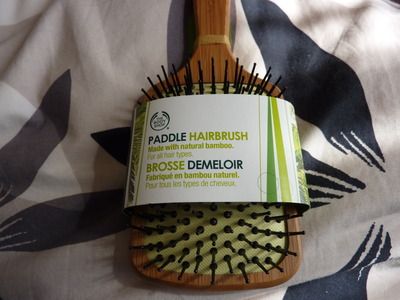 Speaking of which, here is my new paddle brush! I couldn't embarrass myself by taking a picture of my old one. The bristles part broke off from the hande ages ago and I was just dragging this sad little thing through my hair. I'm loving this brush so far. great for drying my hair, helping to put my hair up and generally keeping it looking nice. Ace! Find it
here
.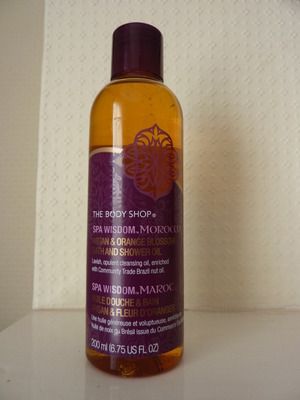 This is hands down my favourite Body Shop product. I'm now a massive fan of oils and I think it was this product that got me into them. It has a really different scent, very unlike anything I've used before. Not especially feminine (that's not a bad thing). I just love it! It foams in the bath or in one of those shower lily/puff things, and leaves your skin so incredibly soft after a bath or a shower. Although it doesn't have an especially luxury price tag, this is a real luxury item for me, and I love to treat myself to a soak in the tub with this in from time to time! Its
here
. I will have to purchase
this
and
this
next!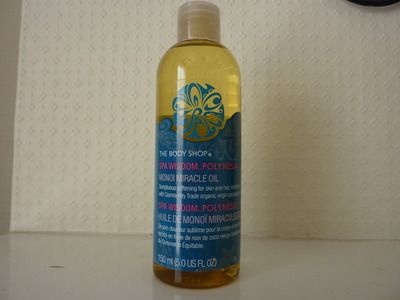 The fact that this is called Miracle Oil makes my other half laugh. He calls it snake oil instead. But in all honesty, this is a miracle oil. Its great at soothing dry skin, especially knees and elbows and the like. Massaging a few drops into your hands and nails feels really soothing and relaxing. It can indeed be used as a massage oil for all your aches and pains. My favourite use of it though is as an overnight hair mask. I massage a generous amount into my lengths and ends, then comb through so my roots get a little but not as much of the oil, I then tie up my hair or braid it and go to bed (best to stick a towel over your pillowcase). In the morning, shampoo the oil out and condition as normal. When I do this, people always remark on how shiny my hair looks that day, and it definitely helps your hair if you have any split ends or are a little overdue for a haircut (like me permanently!). I'm not crazy about the scent, but I don't hate it. You can find it
here
.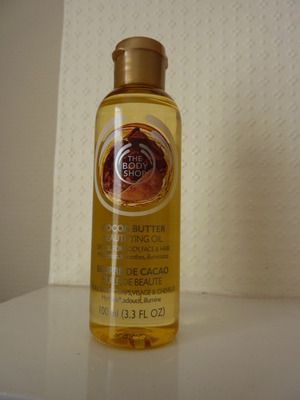 Speaking of oils, The Body Shop recently released these
Beautifying Oils
combining some of their classic fragrances into their oils. Cocoa butter has always been a favourite of mine and I thought this would make a lovely body oil. Might even try it on my hair too! Find the cocoa butter oil
here
.
Its suddenly become sandals weather after what seems like a lifetime of wearing Ugg Boots, so I needed this to get me sandal-ready again. Thir foot and leg products are brilliant because they have peppermint and menthol in them, really nice and cooling! Find it
here
.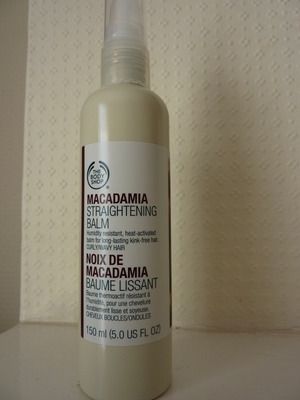 Last but not least, I decided to try this stuff out! Its got some great reviews on the website and I think the whole world is aware of my obsession with oil and products with oil in them in my hair! Its got a cream consistency a bit like the Macadamia Leave-In Cream. I haven't used this product yet but I'm definitely excited to. Its a bit smaller than my Macadamia cream product so will be really good for travelling.
At the moment the Body Shop have a couple of offers on! One offer is Buy 2, get 2 free across the entire site in honour of the Jubilee! Just enter the code QUEEN. Or, how's about 40% off? enter 40SHOP at the checkout. I believe the 40% off code works if you show
this
link on your phone. Online its valid until noon on 4th June 2012.
Are you a fan of The Body Shop like me?