Beauty: Beauty Week Day 4 - My current skincare essentials
15:30:00
Thanks to beauty boxes, blogging and generally scouring the internet looking for tips, I've discovered more and more skincare products to try out on my skin. I flit about trying various things, but recently I have settled on the following products which I have been working well on my skin currently. For reference, my skin isn't particularly good. Its combination, leaning towards oily, I have quite large pores and I am prone to spots. Makes me sound delightful, doesn't it?!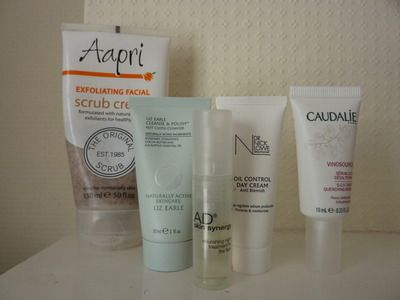 Exfoliating - I love this scrub cream by Aapri. They were the first ever brand to bring an exfoliation product to the UK market, a fun fact! I used to use St Ives Swiss Formula but it started to go up in price a lot and Aapri is a really good value product. Its quite a rough product so wouldn't be suitable for sensitive skin but its exactly what I need to slough off those dead skin cells once a week or so. It leaves my skin really glowy and fresh afterwards and the fact that the scrub is suspended in a cream helps stop my skin from drying out. I'm a big fan of this stuff and having just popped on their website, I see they have some other great products that I'd love to try.
Cleansing - This is my first ever sample of the iconic Liz Earle Cleanse and Polish. I got a sample from Red Magazine last month, picked up a sample in the CEW Awards box from Latest in Beauty and also picked up an extra sample from a create your own box from LiB. So far, so good! Cleanse and Polish leaves my skin feeling clean and refreshed and I love using a muslin cloth, its really good at exfoliating and I feel really nice and fresh when I use them. I am going to rattle through my three samples and I'm 99% certain I will purchase a full size Cleanse and Polish. Perhaps if I can stretch my pennies enough I'll buy one of the Skin Essentials Regime kits so I can try the toner and moisturiser as well (you also receive a freebie with these kits which is excellent! This month it is the soothing eye lotion).
Toning - as you can see, at the moment I am not using a toner. I don't feel I need it at the moment. After using Cleanse and Polish I splash my face with cold water which is enough for me at the moment. I find a lot of toners very drying.
Serum - I received this Caudalie serum in last month's beauty box. You may recall me saying I'd probably only use it in an emergency. Its actually become my go to product to put on pre-moisturiser particularly at night but occasionally in the day too. Its got a really thin, milky sort of texture, not at all like you might expect of something that is to help with skin hydration. And I think that's precisely why I love it. It absorbs beautifully, doesn't make my skin greasy but gives it a good hydrating boost and makes it look and feel significantly better. It sinks in so well and then you can top up with your preferred moisturiser. I will definitely be buying this when my sample runs out.
Moisturiser (day)- I received this day cream by Dr Nick Lowe via Latest in Beauty's luxury samples. Its been an absolute godsend for me, especially in this ridiculously hot weather. Its really helped to keep my skin from getting all greasy but doesn't dry me out either. I will definitely be repurchasing this.
Moisturiser (night) - This night serum by AD Skin Synergy is also from Latest in Beauty's luxury samples section. I love face oils, which this is, and I find it does nourish my skin beautifully overnight. I also love that it has natural organic ingredients in it. Admittedly I haven't used it during this heatwave, but as soon as its over (and I fear that will be far too soon!), I'll go back to using it at night.
So, that's my current skincare regime in a nutshell! I can be quite fickle when it comes to what I use on my skin but at the moment, this routine is working for me. Admittedly, the best cleanser I've ever found has been one I make myself, following the principles of the
Oil Cleansing Method
or OCM. I may blog about the OCM one day as it is brilliant and I am a big advocate for it.
Do you use any of these products? What is your skincare regime?
Pop back tomorrow for Day 5 of Beauty Week!