Beauty: Moonies!
13:30:00
I've been following the lovely Kia's blog MAKE me UP for a few months now and she's been quietly but diligently launching her very own beauty product. At the start of the month she announced her product, Moonie! Moonie's are natural muslin face cloths in a big round full moon shape. Kia even has her own face of the brand, the lovely Neil!

I couldn't resist buying a pack of Moonies. Kia sorted my order immediately and they arrived super quickly! I love the packaging, and now I have my very own Neil, which I'm super excited about!


Like I said, I loved the all-natural, recyclable packaging!
You get three large Moonies for £5.99, which I think is a really great bargain :)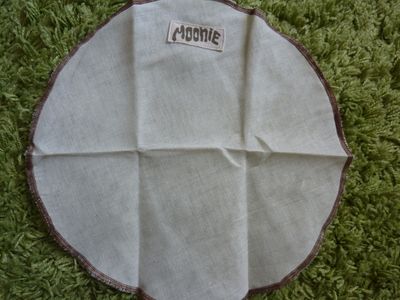 And here's a Moonie unfolded. I love that the muslin is unbleached. The white commerical ones go grey and grubby looking so quickly, no matter how diligently you wash them.
The cloths feel really good on the skin, rough enough to exfoliate and wake your skin up, but gentle enough not to damage your face. I like to use these on days I don't use an exfoliator but still need a skin pick me up. Kia also has some helpful tips for other ways the Moonie's can be used so be sure to check out
her blog post
!
As for the lovely Neil, he is now the guardian of all my muslin cloths. I keep them in a glass jar I picked up in a charity shop for the bargain price of £1.75, gotta love charity shops :)
Moonies cost £5.99 for a pack of 3 and for a limited time include free super speedy delivery to the UK! You can buy them
here
.
Big congratulations to you,
Kia
, on the launch of Moonies, and I wish you every success in your business!