Beauty: Excellent July Magazine Freebies Haul and an excellent discount!
13:30:00
When I'm not spending all my pennies on beauty boxes, I can usually be found browsing magazines for their freebies. I've been a Marie Claire subscriber for years , but they long since stopped sending the freebies to subscribers (but they TOTALLY did when I signed up. Its part of the reason why I subscribed! I really dont need a limited edition subscribers cover, I need freebies). This month I believe they were giving away lovely full sized Avon mascaras. Not that I would know *sulks*.

A lot of bloggers post about what the upcoming freebies are for the next month of magazines, which definitely helps you make the decisions about which ones to get. I decided for July I would allow myself two magazines. So imagine how delighted I was when I went to my local Sainsbury's to find that they have 2 for £6 on selected magazines, including the two I wanted. Bargain!



As you can see, I opted for
Red
for their
REN
goodies and
Elle
for their
St Tropez
gradual tanning sample.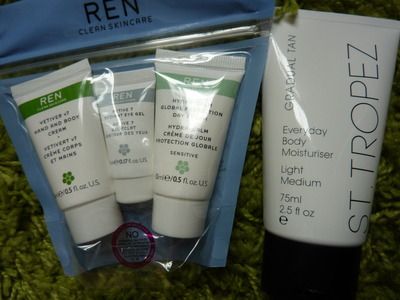 The REN kit contains samples of Vetiver hand and body cream, an eye gel and a hydrating day cream. I'm excited to try these out, especially the eye gel. As you can maybe see from the photo, I opted for the light-medium gradual tanner, as I am super pale. I've tried out the
Garnier Summer Body
gradual tanner in the past and I liked the results, so I'm looking forward to sampling this as well, I know St Tropez have a good name in the fake tanning world.
If you'd like to give
REN
a try, after picking up the samples from Red, head on over to the REN website. You get 10% off your first order. But it doesn't stop there. Pop over to
Whats In My Handbag
and register there, its an excellent beauty website. Now, head back over to REN and choose any item that takes your fancy. I have decided to try out the
Kit For Blemish Prone Skin
. Add that to your cart, and choose your whopping 4 free samples from REN. Now go to your basket and add the code RENHANDBAG to the voucher code section. You will now have the
Six Of The Best
kit worth £20 for free! Not forgetting all the samples and the 10% off your first order. They're practically giving it away for you to try! The offer has been going on for a while so if you're interested then I suggest you move fast! I uhmmed and ahhhed for ages about it because I'm supposed to be saving lots of money at the moment. But, well, you know. Ok, I have NO excuse except I decided I'm worth it. Ha!
What magazine freebies did you pick up this month? What were your freebie winners and losers? Are you already a total REN convert?