Lifestyle: Recent Happenings in Instagram #2
13:30:00
Hi readers!

Its been a while, hasn't it. I'm awfully sorry. I've got so many posts I've been meaning to do, but basically I've become lazy and fallen out of the blogging routine. Its been so lovely though to see how many views my blog has had even without any recent content. So a HUGE thanks to each and every one of you that's read my blog, it means a lot to me!

My last Instagram blog post went down pretty well so I thought I'd do another. I definitely think this would make a good monthly post. I'm on Instagram as @whatlozziedid so please feel free to follow me there. I didn't realise how much I'd gotten into Instagram until the servers suffered a power failure and it was down for a day or so. I was in panic mode I tell thee.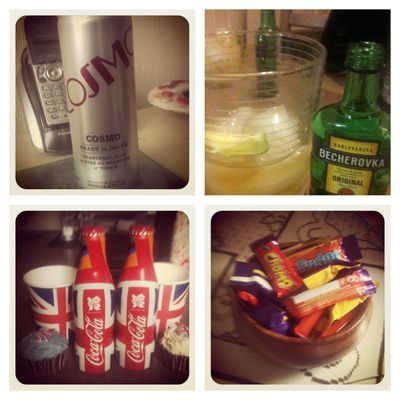 Cocktail in a can from M&S, genius (AND STRONG), evil evil spirit from the Czech republic that gave me such a vile hangover on the Jubilee weekend I couldn't go to a street party, excellent patriotic hangover cure care package sent from the street party I missed, popped home to Scotland for a job interview to find a basket of chocolates in my bedroom from my Mum, how brilliant!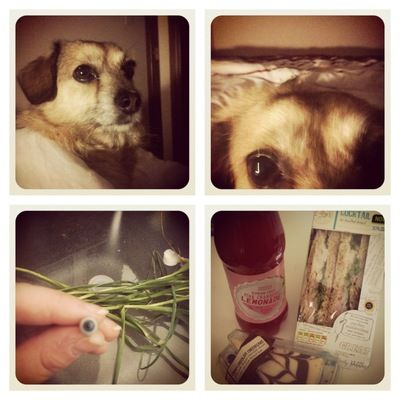 The gorgeous dog my Mum was dog-sitting when I went home, canine MySpace picture, horribly creepy glass toy eyeball I found in my garden, a lunch of champions to cheer up a crap day.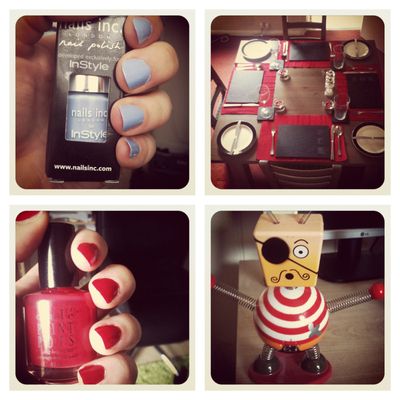 Nails of The Day- Nails Inc Bluebell, the table all set for a dinner party, Nails of The Day - Ciate Patsy, our excellent kitchen timer reminding me to go check on the meringues I was cooking (it's technically my OH's timer but its too excellent not to use all the time!)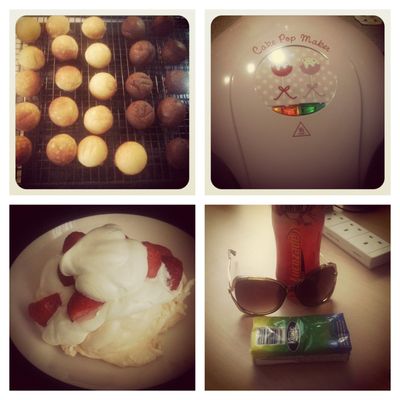 First foray into cake pops, my cake pop maker, utterly delicious home made meringues with cream and strawberries, my hayfever cure on a day when medication just didn't cut it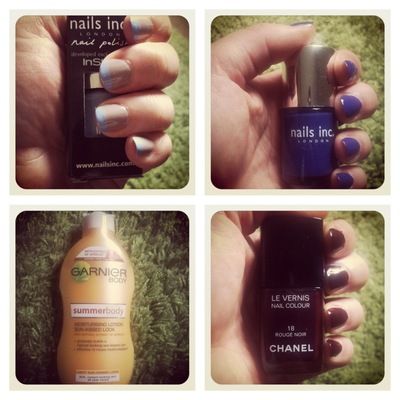 Nails of The Day Nails Inc Porchester Square and Bluebell tips, NOTD Nails Inc (can't remember the name!), I finally decided to enter into the somewhat murky (pun perhaps intended) world of self tanning with a gradual tanner, NOTD Chanel Rouge Noir (possibly my favourite!)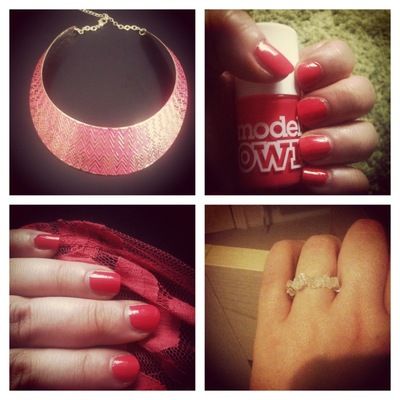 Payday treat of a £2 Primark necklace, NOTD Models Own Coral Reef, matching my nails (as before) to my top, getting back into crafting and trying out some jewellery ideas, including this ring made of tiny polished glass chips.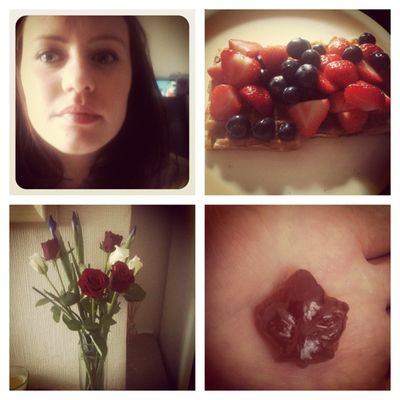 My dazed and confused looking mug, amazing breakfast of waffles and berries with maple syrup as made by my lovely boyfriend, beautiful flowers from my lovely boyfriend, a maple candy to celebrate Canada Day.
And that's been my life recently. Drinking, eating and painting my nails, in a nutshell!
As I said, I have a lot of things to blog about. Including:
June GlossyBox
Latest in Beauty Editor's Choice and Skincare Stars boxes
Recent haul from Johnny Loves Rosie
Recent MUA purchases and my MUA collection
Some recent crafty endeavours
And maybe a giveaway! If I get a few more followers then I'll definitely have a giveaway, I've got a few things set aside for that purpose specifically.
Do you like instagram posts like this? Do you have any suggestions for future posts I could do?