Beauty: April GlossyBox vs Latest in Beauty CEW Award Box
17:15:00
My post comparing the Harrods GlossyBox with the Anti-Ageing Latest in Beauty box is still my most viewed post on my blog. So, I thought I'd bring you another post, comparing the latest boxes from both companies. Perhaps, if this post is as popular as my last one, I'll make this a regular feature.

The April Glossybox's theme was natural products. I absolutely loved the box and I'm planning on keeping it to store all my samples in as it'll go really nicely in the room I store all my beauty bits and makeup in (our second bedroom, which is a home office cum dressing room!). GlossyBox costs £10 a month plus £2.95 P+P, and for that you get 5 samples. My understanding is every month there is around 10-14 samples, of which you receive 5, so there is a bit of pot luck involved! Here is my box: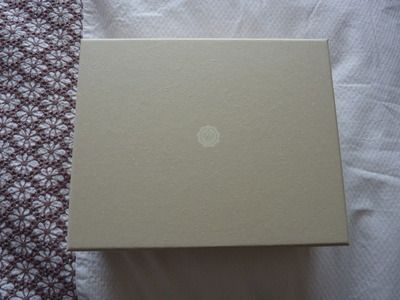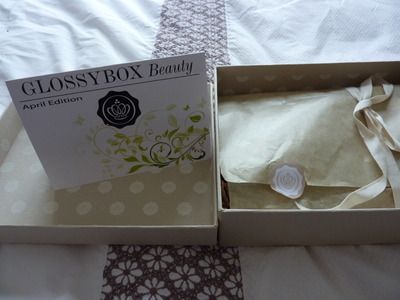 I just loved the packaging this month! Here are my 5 treats: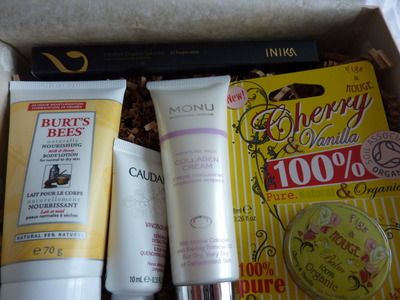 Overall, I'm really excited by the products I received which were:
Burts Bees Milk and Honey Body Lotion. I've sampled this before courtesey of Latest in Beauty, but this is a much heftier sample so I can really give it a whirl. I do find it leaves my skin very soft, but it does feel slightly strange and powdery on my hands after I've applied it. However, hands can easily be washed and I do like the way it leaves my skin elsewhere on my body!
Caudalie Vinosource SOS Thirst-Quenching Serum. I'm so excited to try Caudalie products. I think this will be a serum I use in an 'emergency' to revive my skin, which is one of their suggestions.
Monu Rich Collagen Cream. Great for fine lines apparently, of which I have far too many! I suspect this might be too rich for most of my face, so I think I'll use to to treat the lines I have on my forehead and also on my neck and decolletage.
Inika Certified Organic Eyeliner in Purple Minx. Not a colour I would have picked and I don't tend to use pencil eyeliners, but I have tried it today and it is really nice. Not fiercely pigmented but this means its very suitable for daywear.
Figs & Rouge lip balm. I received one of these from Latest in Beauty (I think!) once before but as I use hundreds of different handbags (ok, that is a *slight* exaggeration...), I do like to load each one up with a lip balm and a hand cream so no matter which bag I grab I'm prepared! This is a cherry& vanilla scented lip balm and very good it is too!
I'm very happy with the contents of my GlossyBox. Looking at all the samples they had, I would have liked to have tried the Monu Reviving Mist and the Philip B straightening balm, but I'm not sure what products I'd want to swap out to have them, so I think I'm just trying to be a spoiled brat. The May GlossyBox will mark their first birthday, so I imagine they will have something exciting up their sleeves for subscribers!
Over to Latest in Beauty. At the end of April they brought us the CEW Beauty Awards Box. Described on their site as 'the Oscars of the beauty world', these products were all rated very highly by Cosmetic Executive Women (CEW) members. The box contains 8 samples from a possible 9 and was £8.95 plus £2.95 P+P. Here is the box: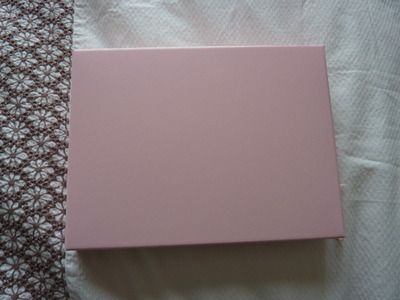 I don't mind that the box isn't particularly exciting, if all the beauty boxes were pretty enough to keep my house would be overrun with boxes!
And the contents are here: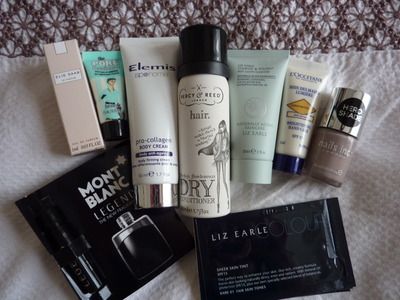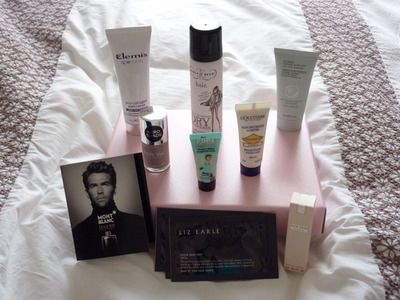 I'm made up with my products, which are:
Elemis Pro-Collagen Body Cream, a firming body cream. Again, I think this will be best on my decolletage, the rest of me either doesn't need help or is totally beyond help!
Liz Earle Cleanse and Polish, which is surely THE cult product (which is why it won most revolutionary beauty product in the last 20 years!). It came with a free muslin cloth and also some samples of Liz Earle skin tint which was gratefully received!). I also received a sample of this with a magazine last month and I'm super excited to finally try this amazing product. I can see me becoming instantly hooked.
Percy & Reed Dry Conditioner, I'm a dry shampoo addict, so I'm really keen on trying this out. My ends get quite dry and I'm hoping this will really pep them up!
Benefit The Porefessional. I have horrible large pores and I've heard amazing things about this product so I'm keen to try it out!
L'Occitane Immortelle Brightening Hand Cream with SPF15. My hands have really been suffering lately so I am grateful for all hand creams I receive! And I'm fast falling in love with all things L'Occitane.
Nails Inc Porchester Square nail varnish, which is an absolutely gorgeous colour and absolutely brilliant for day-to-day wear as it'll go with every outfit conceivable!
Elie Saab Eau de Parfum, which I have sampled before with a Latest in Beauty fragrance box, and really liked.
Mont Blanc Legend Eau de Toilette, which is one for the boys so this has been passed over to my OH!
This is yet another excellent box from Latest in Beauty and I'm going to really enjoy using each and every sample!
So, which box was my favourite? To be honest, it's too close to call this month, I'll need to declare it a draw. Both boxes appealed to me enormously and I'll definitely get good use out of everything in both.
Did you get either of these boxes? What did you think of them?