Beauty: Beauty Week Day 2 - BB Creams
15:30:00
BB creams have taken the world by storm. Originating in Asia, BB cream stands for beauty balm or blemish balm, or many other things beside (my favourite is seeing it referred to as a beblesh balm. I like to say that in a Borat voice over and over and over). BB creams are touted as an all-in-one skin solution; skin whitening ingredients, no need for a primer, moisturising, mattifying, foundation coverage and so on and so forth. The selling point is that once you own a BB cream, thats all you need as a base when doing your make-up (in honesty, this doesn't work for me, I still need a few other bits, but that's ok!). I first started researching BB creams when Illamasqua brought one out last year, one of the first to be sold in the UK. After some reading and some googling and some eyeing up reviews on blogs, I decided to opt for an original BB cream from Asia by a company called Missha. One of my biggest problems is finding foundation to suit my skin tone. I'm pasty and pale with freckles. I have never met a sales person at the make up counters who can ever give me a foundation that suits me. In fact, I've stopped approaching them. 99% of them are orange and take offence when you tell them you LIKE being pale, you WANT to look natural and flawless and you have little interest in using your foundation to darken your skin. I've tried higher end brands and lower end brands. I've spent hours in Boots daubing things on my jawline. They either make me so yellow I look jaundiced, so orange I look like I've been tangoed, or else the foundation just looks terrible on me. My Missha BB cream is the only thing that I've ever liked enough to use all the time and to re-purchase time and time again. I also completely love the pump-action applicator at the bottom of a tube. All foundations should be like this, yes. I get it from Ebay and I use the Perfect Cover BB cream in number 21. I don't find it improves my skin, but it doesn't make it any worse, so that's fine by me. Here is my BB cream: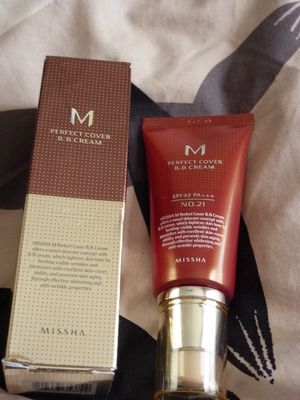 You can order smaller samples than that which is good if you're not sure what colour is for you. This one is hands down the shade for me (I did sample No 23 which is slightly darker but it was just a touch too dark for me), it gives me quite a pale base but I can use powder and bronzer to contour my face. excellent. However, it gives me quite heavy coverage and we've gone into a sudden mini-heatwave (by the time this post is published, it'll probably be raining again!), my usual make-up routine just can't handle it. I have greasy skin anyway, factor in heat and you have the unpleasant experience of your carefully applied rouge sliding off your face. Plus all make-up feels much more obvious on your skin when its hot, don't you think? So I set off in search of a BB cream that would be a bit lighter on my skin than Missha and that I wouldn't completely hate. I have already tried Garnier's BB cream and it just wasn't for me at all and didn't work on my skin. Tinted moisturisers don't tend to work too well on my skin either. On Friday in my lunchbreak I popped into a Superdrug with the sole mission of getting a new BB cream (until I realised they had 3 for 2 on cosmetics. It'd be rude not to partake in an offer like that!). I made a beeline for the
MUA
stand as I really love their products and I remembered they released a BB cream. Whilst the 'Light' shade wasn't too bad and I could probably have learned to live with it for the hot days until I can slap my usual Missha back on, the texture was so thick. I didn't get beyond applying it to my hand, it felt like a face mask, so thick and obvious. I knew that would never work. Then I spied the Maybelline counter and the
Dream Fresh BB Cream
. It has a runny gel-like consistency, nice and light, felt nice on my hand, and the colour wasn't took bad on my face either. It is an 8-in-1 cream, claiming to create a natural glow, compliment skin tone, protect skin from the sun, hydrate, blur imperfections, be non-greasy and oil free, look visibly smooth and feel fresh. Rather a lot for a little tube of 'stuff', isn't it?! So, I proudly proclaimed it my winner, put it in my basket and brought it home.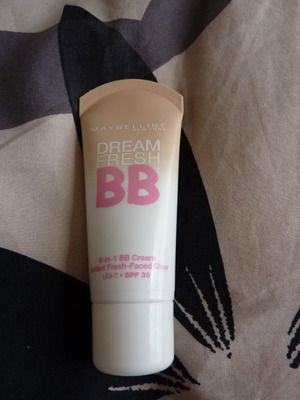 Here's a blob of each on my hand, above is the Maybelline, below is the Missha: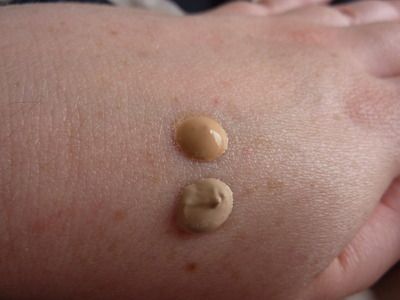 The Maybelline is definitely darker, but I do tend to get more freckles in the summer, which does darken my skin tone a bit, and it is a little like those perfect colour match foundations that look all the wrong shade on your hand but blend in and you can't see them. You can see its a lighter fluid than the Missha which is thicker. I've used it for a few days now and I'm not minding the Maybelline at all. I don't feel so 'caked on' with my makeup in the heat and its lasting pretty well. I'm not sure about the blurring of imperfections but I have a great primer for that anyway. It definitely feels fresher than wearing Missha in this heat, and still looks good after a day out and about in the sunshine! Plus, its SPF 30, which is pretty much what I need to wear when the sun is shining, even in the UK. I burn really easily and basically don't ever tan (I get freckles on my face but its still very prone to burning and burning badly, freckles on my lower arms and hands and I tan on the tops of my feet, which is just blooming odd, and makes me look like I have grubby feet all summer). So all in all, a good interim staple for my makeup collection until this blasted heatwave is over!
Are you a BB cream fan? Do you like the version for the UK market or are you a fan of the originals like me?
Don't forget to stop by tomorrow for Day 3 of my Beauty Week posts!