Beauty: Revlon Lip Butters
12:30:00
Another mini-hiatus on my part. Apologies, its nothing personal! Work became beyond busy in the last few weeks. But now there's a lot of change ahead and the best part of all this change is being granted a week of gardening leave. I don't need to return to the day job until May 9th. I definitely needed a break. The stress has definitely taken its toll on my skin, my hair, everything. So whilst I do need to spend my week catching up on some essentials (changing my ISA, closing an old credit card account down, getting a better deal on my broadband, going to the dentist! And pardon the irony, but part of my gardening leave will need to be spent doing some gardening. My garden looks like Day of the Triffids) I will also be spending some time pampering. Nothing too crazy, just a fringe trim, eyebrow threading, a few face masks from my collection. But aside from that, I do want to line up loads of blog posts to keep my blog looking good for as long as possible! I've certainly got loads and loads to blog about.

And today we begin with one of those rather hyped products, the Revlon Lip Butters. I managed to pick these up in Scotland when I was home last month, and got them with a No7 nail varnish as part of a Boots 3 for 2. I picked up Peach Parfait and Berry Smoothie. Here they are: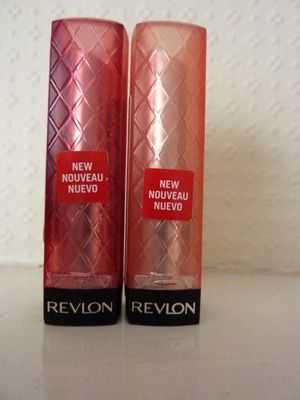 And here's the lip butters up close, with Berry Smoothie on the left and Peach Parfait on the right: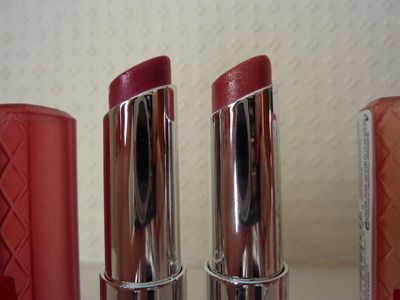 They're both really wearable everyday products. The Peach Parfait colour is a little more shimmery as you can see, and is also a more natural colour on the lips. I'm definitely more of an eye make-up girl so I like a more muted, natural lip product to go with. Plus, I'm a disaster area, so wearing a strong red lip tends to end up with me smearing it all over my face anyway! These are very moisturing as well, as one would expect when its a lip butter, and don't dry out the lips the way I find some lipsticks do. Its halfway between a gloss and a lipstick and I'm definitely a fan. Here's a couple of swatches, please excuse my terribly scaly looking hands, I slapped on so much handcream after seeing these pictures!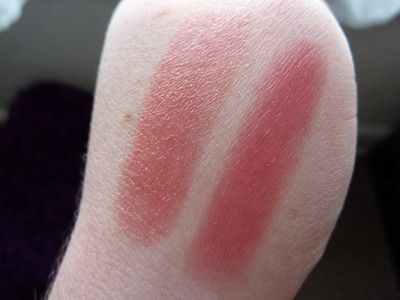 On the left is the Peach Parfait and on the right is the Berry Smoothie. I'm a big fan of these, I definitely recommend them. They are the only lip butter-type product I've tried and to that extent I would be interested in trying other brands, but I can definitely see me re-purchasing these in the future.
Do I have a favourite? Probably the Berry Smoothie, but I use them both equally. I'd like to pick up Candy Apple and Pink Truffle as well as I think they'd be great additions to my ever-expanding make up collection.
Have you tried the Revlon lip butters? What did you think?